The mission of Fremont Council PTA is to promote the welfare of all children and families in the Fremont Unified School District in cooperation with the National PTA, the California State PTA, and Peralta District PTA.
The goal for 2017-2018 is to develop membership planning strategies by working with the Fremont Unified School District and State of California.
---
Council Meetings
Council Meetings are held at the F.U.S.D. offices at 4210 Technology Drive in the staff room on the second floor at 7:00pm on the second Monday of each month unless otherwise noted on the CALENDAR.   Calendar takes into account holidays, vacations, and the end of the school year.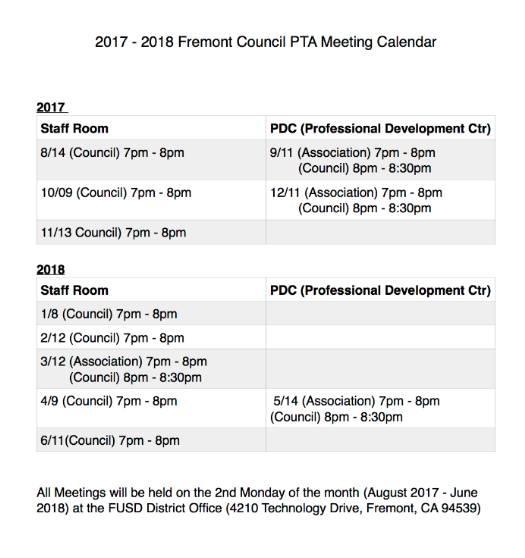 For the full calendar, see the Calendar page.          
Upcoming events
Date

2017 

When & Where

Sep 23

CAPTA Northern Regional Conference - CSU Maritime Academy (200 Maritime Drive, Vallejo, CA 94590) (Registration deadline is September 20, 2017, 5pm)

Oct 15

Program Grant Application Due

Nov 14

Submit Reflections Artwork

Dec 9

FCPTA Reflections Award Ceremony - American High School (Rotunda & Theater 70)

 

 

2018




 

Jan 22-23

California State PTA Legislation Conference in Sacramento
Apr 27-29 
California State PTA Annual Convention - Ontario (Registration begins on March 1)
 
 
 
 
For a full listing of events and deadlines, please consult the calendar.
2017-2019 Officers
For phone numbers, please consult the physical copy of the Council Directory.
Officer
Name
Email
President
Ivy Wu

president

[at]

fremontcouncilpta.org

Secretary
Anita Vaidun

secretary

[at]

fremontcouncilpta.org

Treasurer
Vasudha Bose

treasurer

[at]

fremontcouncilpta.org

Financial Secretary
Geetha Chandvasekav

financials

[at]

fremontcouncilpta.org

Executive VP
Liz Fischer

execvp

[at]

fremontcouncilpta.org

1st VP of Programs
Anuradha Zindal

firstvp

[at]

fremontcouncilpta.org

Parliamentarian
Kathryn McDonald

parliamentarian

[at]

fremontcouncilpta.org

 
Auditor
Leslie Gupta

auditor

[at]

fremontcouncilpta.org

Historian
Chitra Arunachalam

historian

[at]

fremontcouncilpta.org

Awards & Installation  
Open
 
Communications
Open

communications

[at]

fremontcouncilpta.org

 
Founder's Day 
Sherea Westra
 
Health and Safety
Open

healthandsafety

[at]

fremontcouncilpta.org

Hospitality
Open

hospitality

[at]

fremontcouncilpta.org

Legislation/Advocacy
Dianne Jones

advocacy

[at]

fremontcouncilpta.org

Liaison to Robertson HS
Aimee Hubacek

robertsonliaison

[at]

fremontcouncilpta.org

Membership
Jane Dhilpe

membership

[at]

fremontcouncilpta.org

Reflections
Michelle Hertel

reflections

[at]

fremontcouncilpta.org

Special Education
Laurie Meyer

specialeducation

[at]

fremontcouncilpta.org

Website Coordinators
Nancy Mitchell
Jenny Mitchell

webmaster

[at]

fremontcouncilpta.org
Links